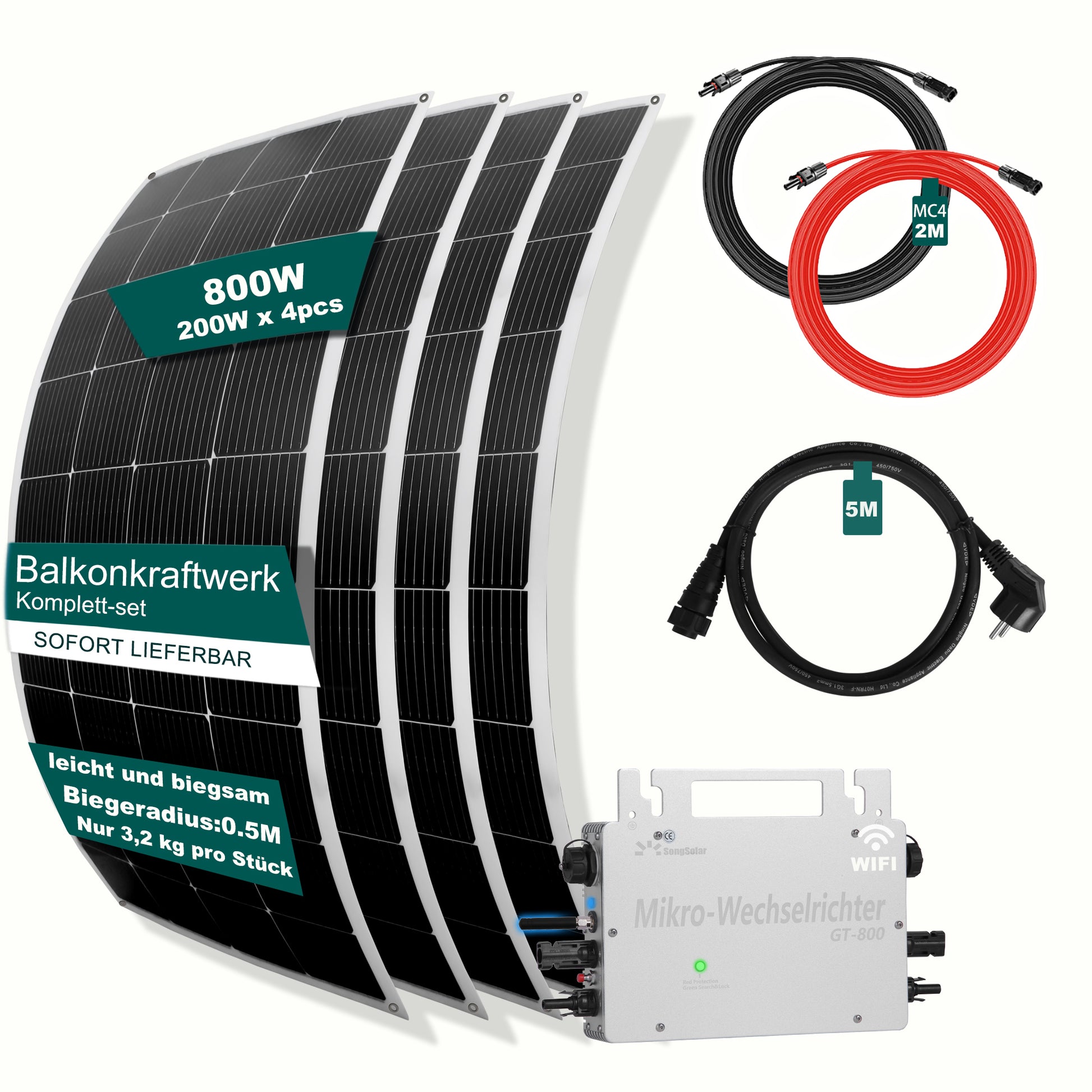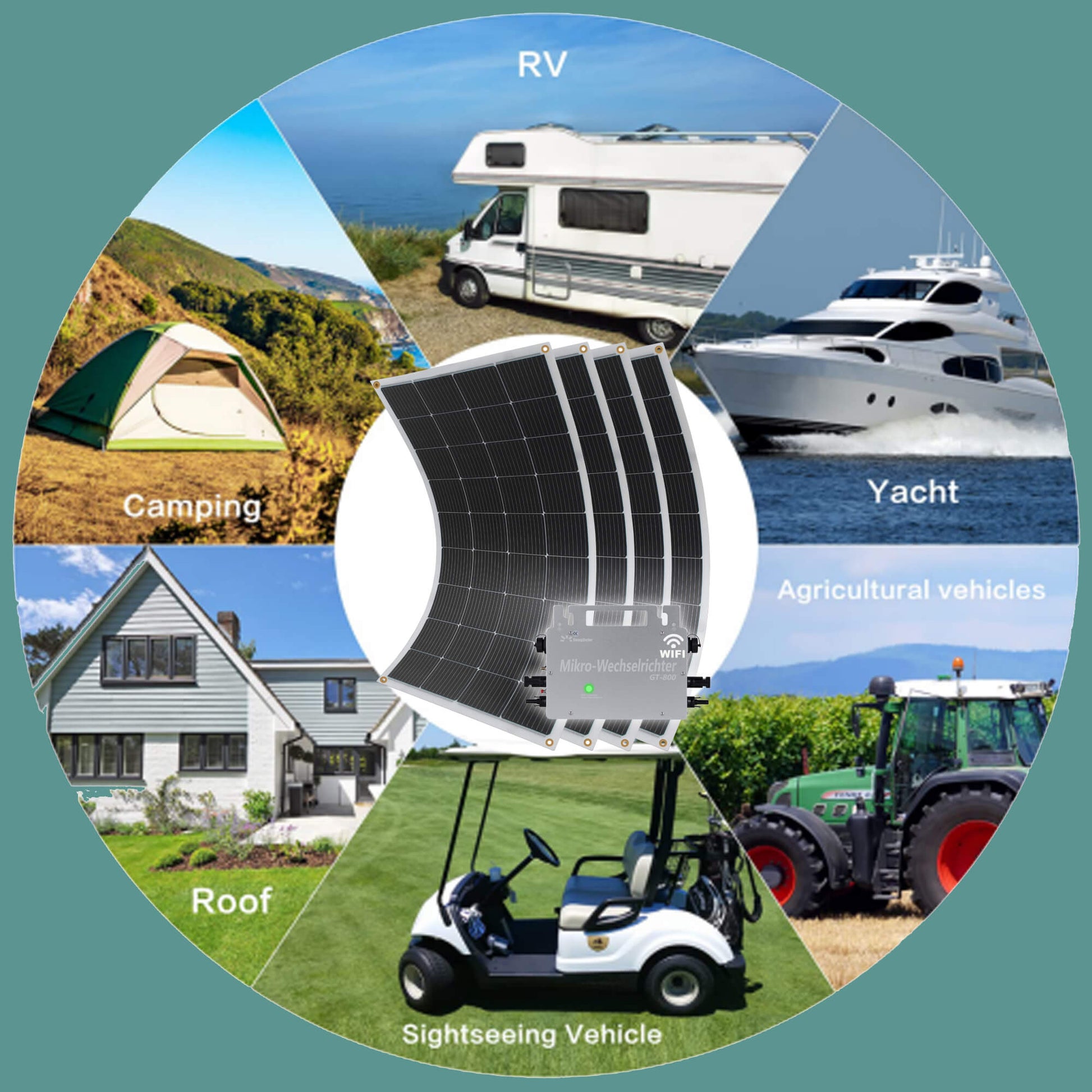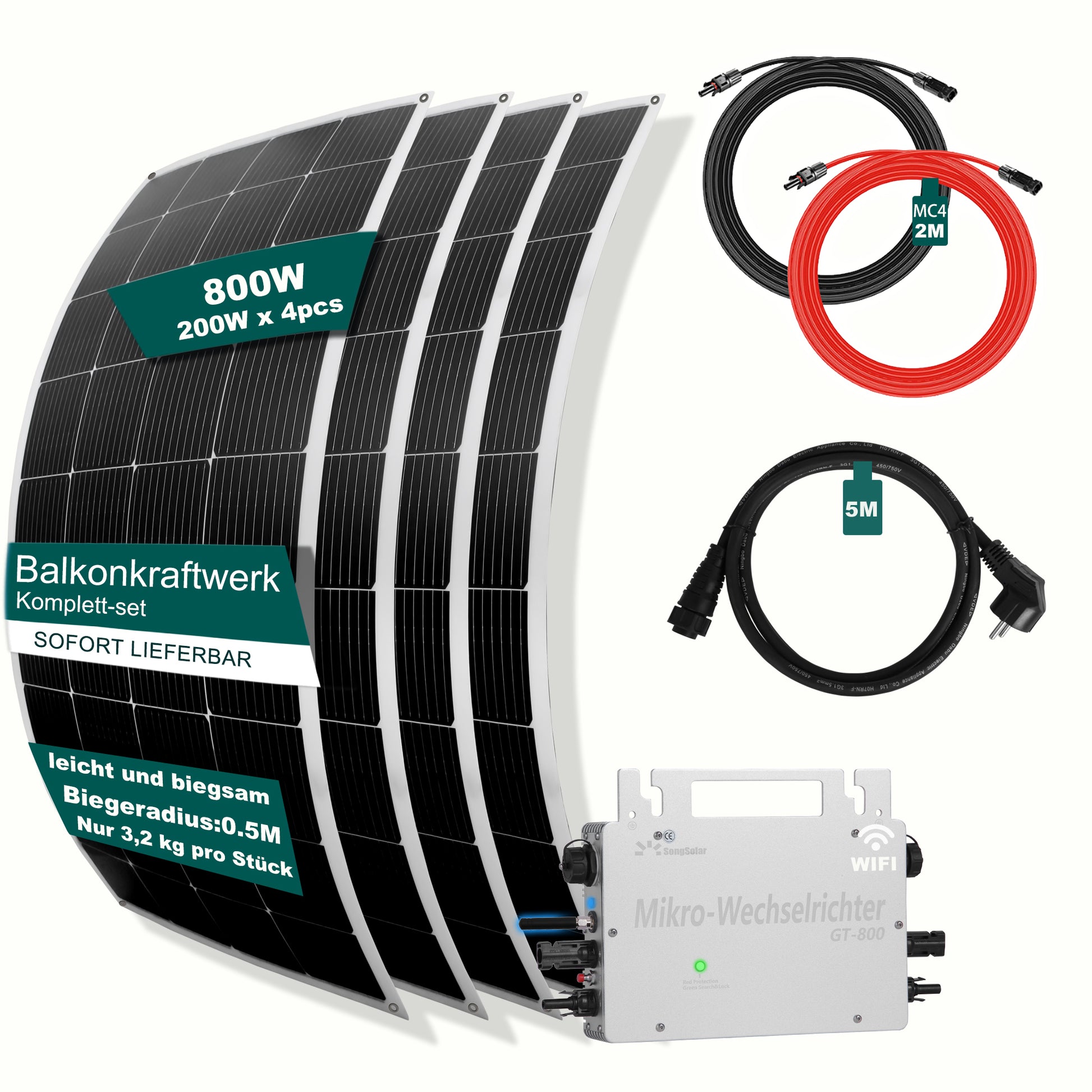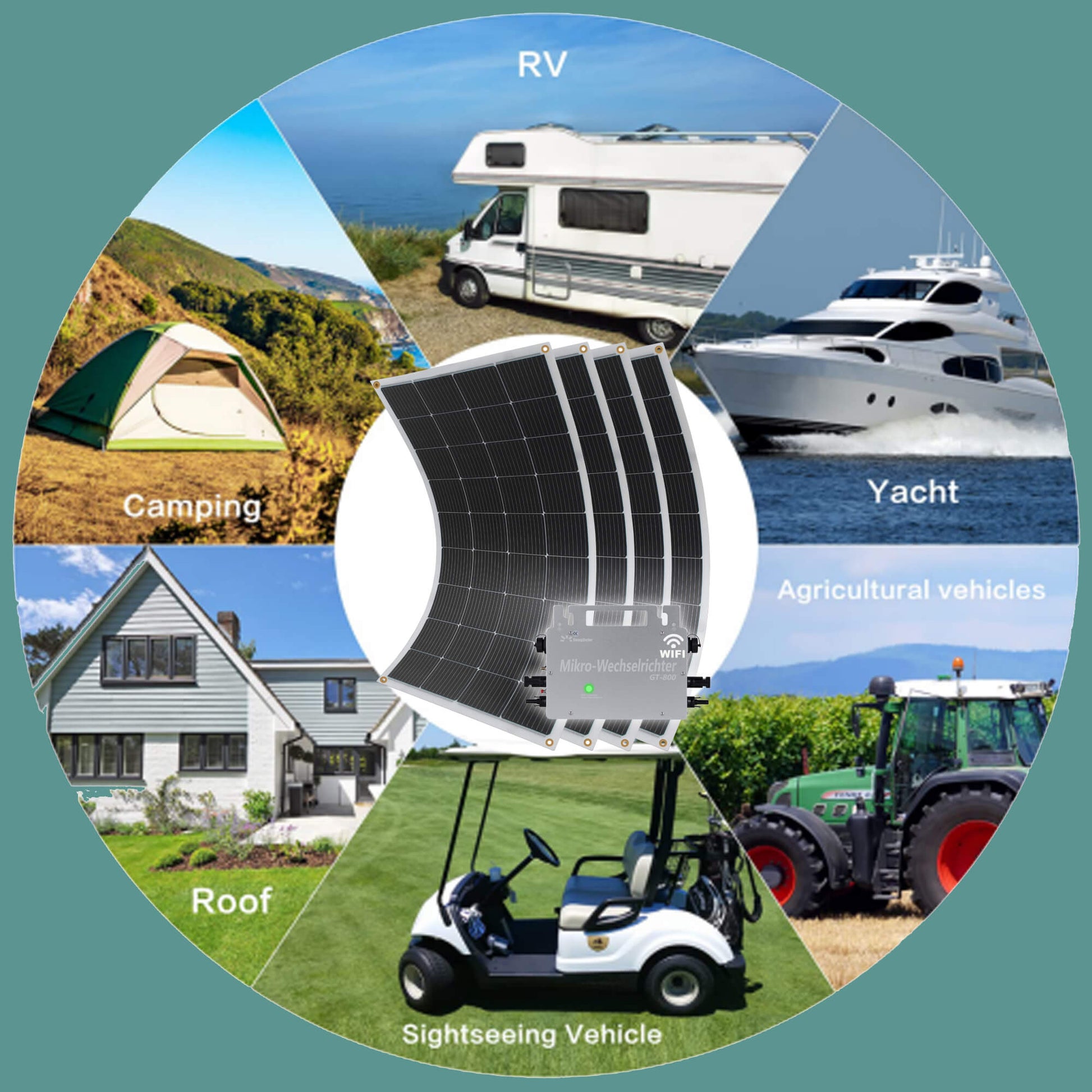 Balcony power plant 800 Watt / 800Watt solar system Song-Solar GTB 800W
Sale price
€699,00
Regular price
€879,00
Tax included.
Balcony power plant 800 Watt / 800Watt solar system Song-Solar GTB 800W
Description
Further information
Shipping & Returns
customer reviews
Balcony power
With the SongSolar 800 Watt Balcony Solar Power Station you can instantly generate your own electricity. Depending on the location and orientation, the balcony power plant produces between approx. 650 - 850 kWh per year. For maximum yield, place it in a sunny spot without shade and save up to 349.8 euros a year on electricity costs. Protect the environment and save money.

Product features
High performance:SongSolar solar power generation system uses advanced solar technology to ensure that sunlight can be efficiently captured and converted into electricity in all weather conditions. Its high conversion efficiency maximizes the power you need and saves energy.



Intelligent monitoring: The system is equipped with advanced monitoring technology, which allows you to monitor power generation and energy usage in real time. Via mobile apps or online platforms, you can keep an eye on your energy production for intelligent management and optimization anytime, anywhere.
Safe and Reliable:Our solar systems undergo rigorous testing and quality control to ensure outstanding safety and reliability. Their stable performance ensures long-term operation and reduces maintenance costs, allowing you to generate power for a long time.
Flexible Installation:The SongSoalr solar power generation system has a simple design that makes it easy to install and use. You can easily install it on your balcony, roof or other area with a lot of light to make the most of the available space and capture more solar energy.
scope of delivery
4 x Song Solar 200 WP /Half Cut /Black Frame




1 x Song Solar 800W micro inverter



1 x Betteri to Schuko/socket cable 5m

2 x set of extension cables Xenes 2m (a total of 2 cables_ 1x red and 1x black)
The size of the solar panel is: 1563*730*3.5mm
The size of the 800W inverter is: 200mm x 230mm x 40mm
Certificates
VDE-AR-N 4105 form, useful for CE and VDE product certificates
Shipping and invoice from Germany - Shipping from Germany by shipping company. You will receive the invoice automatically after shipping confirmation.
Whether you are looking for green power for your home or energy savings for your workplace, SongSolar solar power systems are ideal for you. Click the link to buy now and embrace clean energy for a better future!
Environmentally friendly and energy-saving: When you choose a solar energy system from SongSolar, you are making an active contribution to environmental protection. Solar energy is a clean, environmentally friendly energy source, the use of which reduces carbon emissions, reduces the demand for fossil fuels and contributes to a sustainable planet. It is an efficient and reliable solar power solution that provides clean energy for your home or workplace, the dependency from the conventional power grid and at the same time contributes to environmental protection.
Wichtige Produktinformationen
Dieses multifunktionale Wechselrichter-/Ladegerät kombiniert die Funktionen eines Wechselrichters, eines Solarladegeräts und eines Batterieladegeräts, um eine unterbrechungsfreie Stromversorgung in tragbarer Größe zu gewährleisten. Sein umfassendes LCD-Display bietet benutzerkonfigurierbare und leicht zugängliche Drucktastenfunktionen wie Batterieladestrom, Priorität des AC-/Solar-Ladegeräts und zulässige Eingangsspannungen für verschiedene Anwendungen.
• 1*Hybrid-Wechselrichter
• 1* Produkthandbuch
• 1* Externes WiFi
---
Planes, trains, trucks or boats. We deliver the products to your home quickly, safely and economically.
Most orders are delivered within 7-14 business days. Due to the nature of our products, we cannot guarantee delivery dates. If you have not received your product within 14 days, rest assured that we are still working to ship the item as quickly as possible.
We offer shipping and delivery services to European countries. (other locations require the additional fees).
Different shipping methods are required for different products
Solar panels require freight shipping. Select Freight Shipping Required for Solar Panels option at checkout. Due to their size, weight and handling requirements, most solar panels are packed on a pallet or skid and shipped via carrier.
Flat Rate Shipping: Many products, including most solar kits, have a flat shipping rate based on the weight of the package. This shipping fee applies to most European countries. Additional shipping costs may apply for other locations.
Variable Shipping: At checkout, our system calculates the estimated shipping cost for your zip code.
Free Shipping: on select items storewide. If the items in your order qualify for "free shipping", your order will be FREE!
Shipping Policy - Important Shipping Information
SongSolar, Inc. will arrange freight shipping with recognized freight and parcel service providers in European countries. Materials shipped will be packaged in accordance with published standards for freight shipping of products and related equipment. We will provide carrier tracking codes and contact information as they become available.
Customer agrees that SongSolar is NOT liable for product damage or replacement material costs of items damaged during freight transportation found at the time of delivery or thereafter.
In the event of damage, the customer undertakes to make claims for damages directly to the freight forwarder. SongSolar will endeavor to assist with all claims by providing the customer with original shipping information.
SongSolar will use its best efforts to make new orders available for the same or similar items to replace damaged items.
SongSolar offers Customer the following policies when accepting freight shipments.
Please inspect your order completely immediately upon receipt.
First, look for visible signs of rough handling, shredded boxes, or open packaging.
Write "DAMAGE" with your initials and note specific damage on the bill of lading or delivery note if you discover damaged items - large or small.
Notify the driver and take photos of any damage.
If you are unable to fully inspect the items at the time of delivery, write "Subject to Inspection" next to your signature.
Note that the # of the pallets, boxes or bundles match the bill of lading.

If an item is missing, notify the driver and note it on the paperwork before signing.

If the receipt is not properly recorded at the time of delivery, SongSolar will NOT be liable for any additional costs for replacement materials.

There is a limited opportunity to submit a refund claim to the carrier once the carrier has departed.

Once you have signed the delivery note, you accept responsibility for the items.

DO NOT sign the delivery note without noting any damage or "subject to inspection".

Take clear photos of the delivery note and damaged items.
Contact the carrier and SongSolar within 72 hours. Send description of damage, quantity, and photos to service@songsolar.com
Please include your order # in the email subject.
Still have questions? Please CONTACT US service@songsolar.com for a shipping quote
Wie immer bin ich sehr zufrieden mit Ihrem ausgezeichneten Service und unserer guten Arbeitsbeziehung. Vielen Dank, wir haben die Anweisungen in aller Eile gemacht. Wir werden auch weiterhin Bestellungen bei Ihnen, lieber Partner, aufgeben!
Perfekt erhalten das Produkt, durch den Tester, um das Produkt zu testen ist kein Problem, ein sehr guter Balkon Power-System!