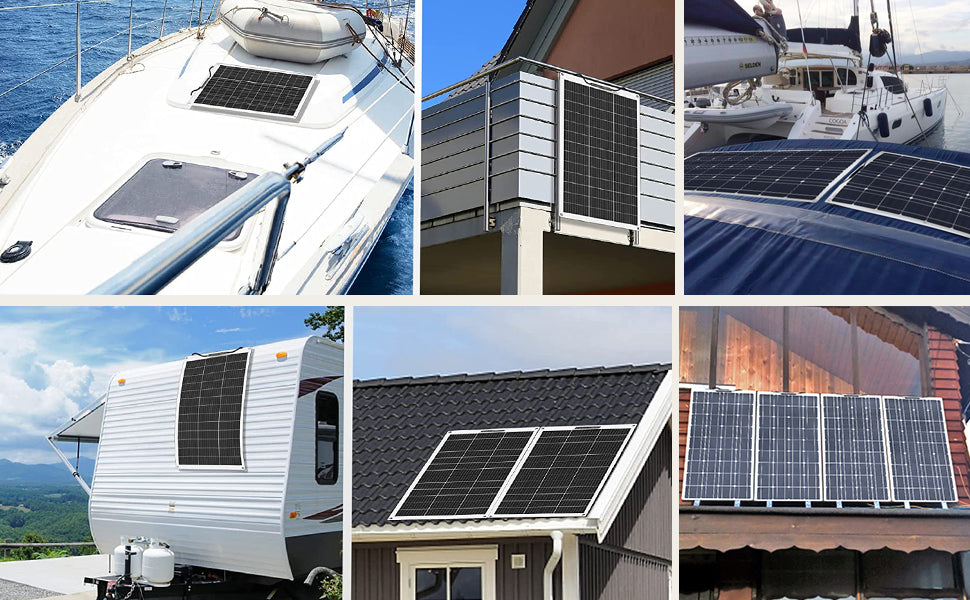 Solar module kit 800 watt flexible solar module
Sale price
€589,00
Regular price
€659,00
Tax included.
Solar module kit 800 watt flexible solar module
Sale price
€589,00
Regular price
€659,00
Description
Shipping & Returns
customer reviews
POWERFUL

By using highly efficient monocrystalline cells, this solar panel is more efficient than many average devices on the market. In addition, it has an integrated blocking diode that prevents reverse current leakage, especially at night. This ensures optimal efficiency.
The battery disks are connected in parallel.

If a small battery disc is damaged, the other battery discs can still be used.
FLEXIBILITY

The main advantage of the flexible solar panel is its adaptability. Because it is flexible, it can be applied to any surface, regardless of the material of the surface. It can be installed on a curved roof or on a flat platform if you want to use solar energy on the trail or while traveling and camping off the grid!
LIGHTWEIGHT

This best flexible solar panel for RV is typically lightweight, meaning it won't take any effort to get it on the road. This solar panel is easier to bring for use as much as it is quite easy to store.
Easy to install

Thanks to its 3.5mm inch thickness and a weight of only 3.2kg, this 200w flexble solar panel features a unique frameless design. They can be attached to the desired surface by glue, tape, grommet or Velcro. This design ensures easy installation. Six metal reinforced mounting holes for screws, hanging and removing the panel and allows for easy transport.
Included:
4 * Song Solar 200 WP / half cut / black bezel
16 * Stainless steel cable ties
2 * Xenes extension cable 2 meters (total 2 cables_1* red and 1* black)
Pm

Vmp

Imp

Voc

Isc

200W

18V

11.11A

21.6V

12.34A

Maximum System Voltage

1000V(IEC)

Maximum Series Fuse Rating

15A

Size

1563*730*3.0mm

Carton size

1595*35*725mm

Weight

3.23KG

output

0~3%

Standard test condition

1000W/m²

,

AM1.5

,

25

℃

Operating temperature

-40

℃

to+85

℃

Panel Class

Class A

Power performance guarantee

>90% after 15 years


>80% after 25 years

ISO9001/14001.CE.TUV.IEC61215,IEC61730.Safty ClaslI