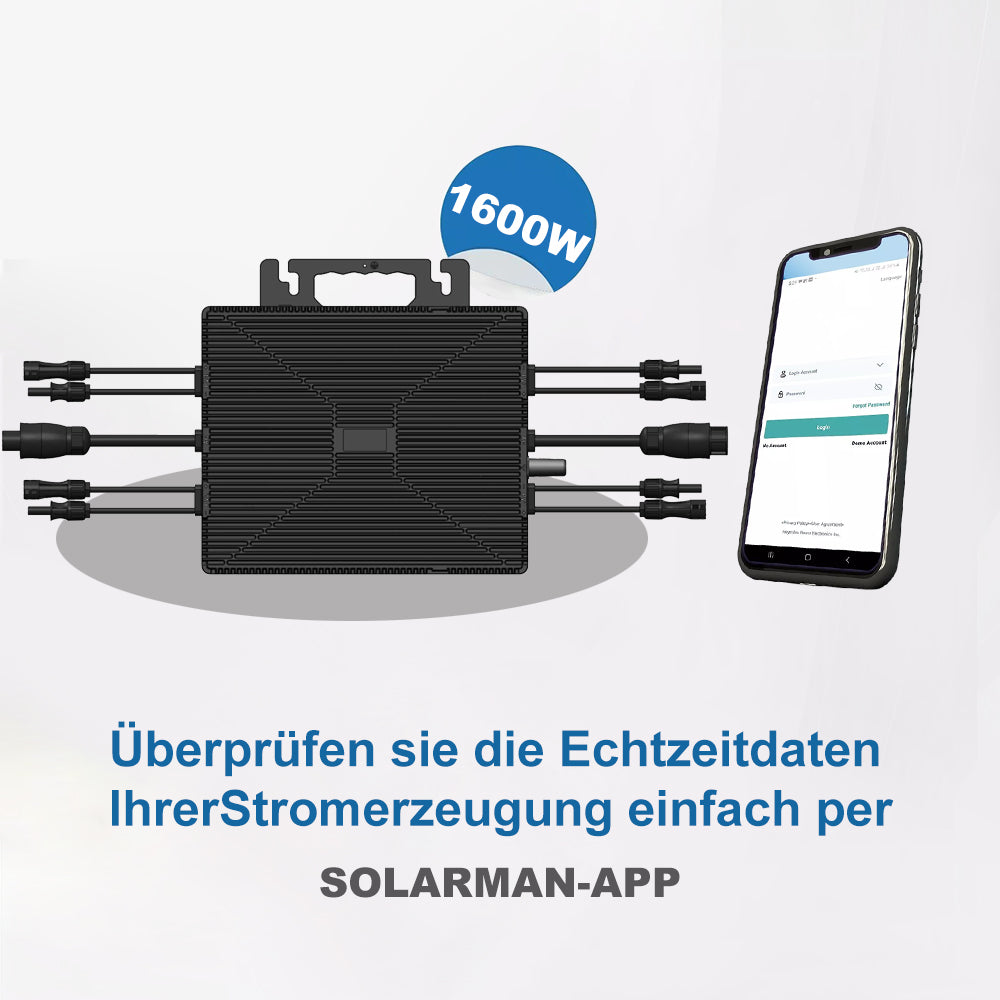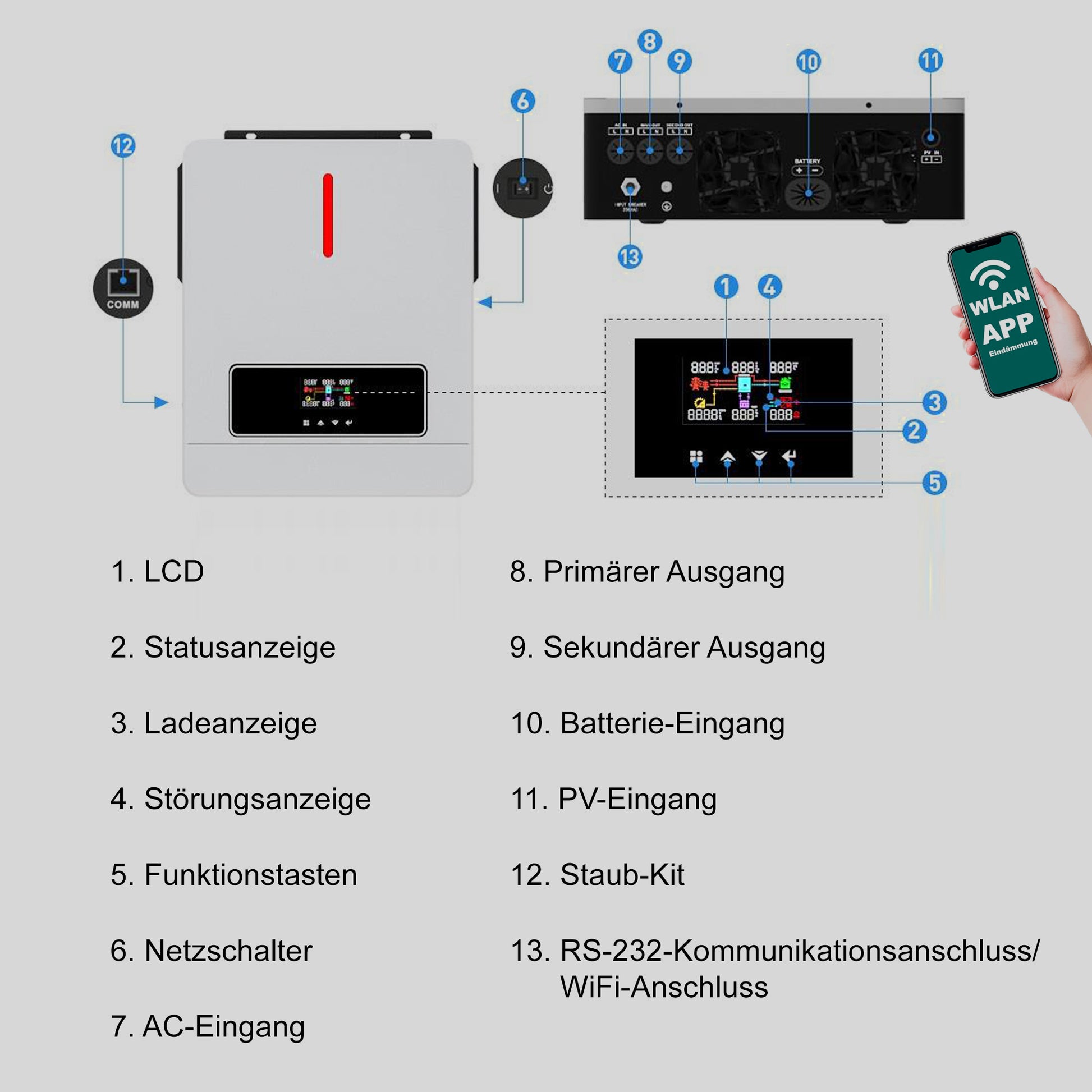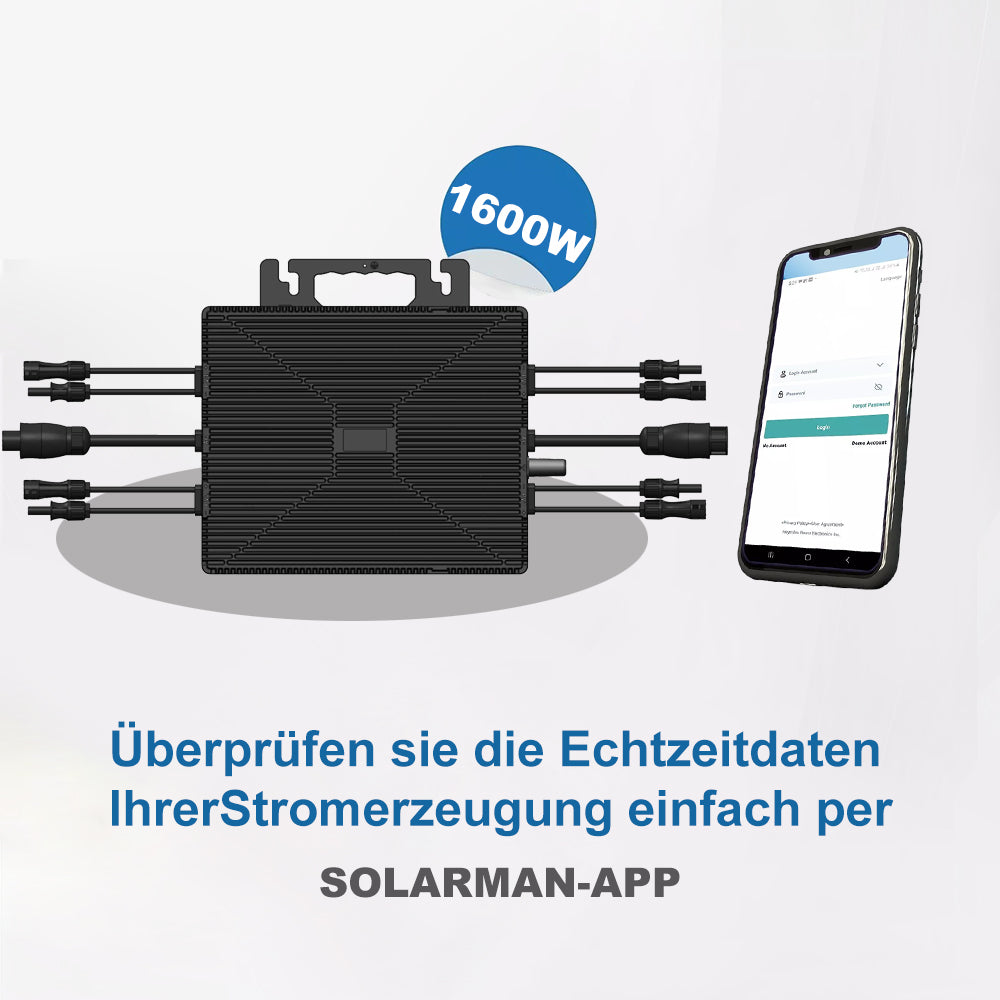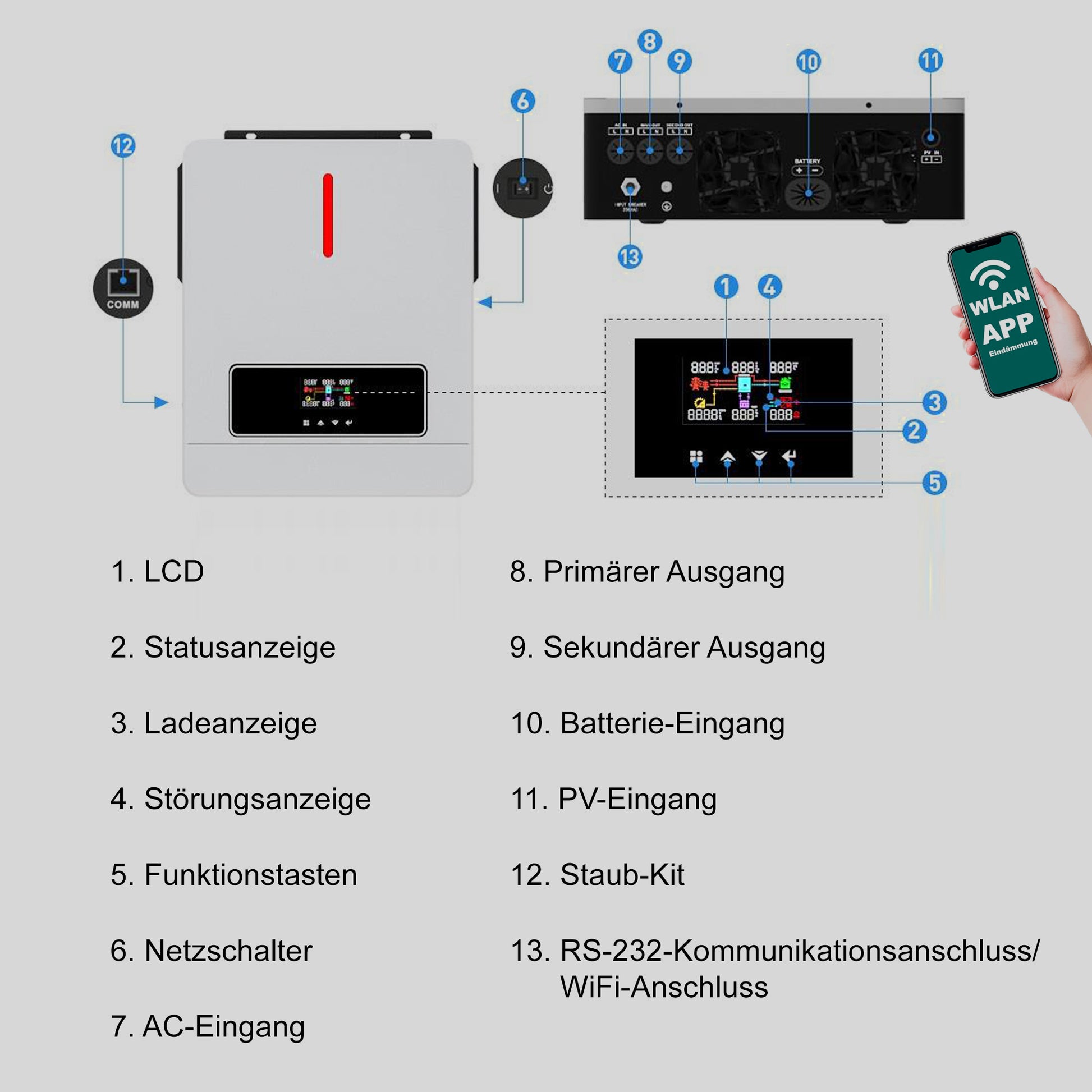 6200W 48V hybrid solar inverter with 120A MPPT and Wifi functionality
Sale price
€429,00
Regular price
€499,00
Tax included.
6200W 48V hybrid solar inverter with 120A MPPT and Wifi functionality
Sale price
€429,00
Regular price
€499,00
Description
Further information
Shipping & Returns
customer reviews
Songsolar 6200W Pure Sine Wave Inverter:
The conversion efficiency of the inverter can be up to 95%, the operation is silent
Stable and reliable: The use of high-quality electronic components and design
Suitable for both off-grid and on-grid applications capable of feeding excess solar power into the grid.
Integrated lithium battery with automatic activation
One-button reset to default settings
120A MPPT (Maximum Power Point Tracking) technology maximizes solar conversion efficiency.
Multifunctionality: Not only can it convert solar energy into electricity, but also has a solar charging control function
The use of high-quality electronic components and design ensure the stable operation of the inverter under various environmental conditions and extend its service life.
| | |
| --- | --- |
| | |
| Not only can it convert solar energy into electricity, but also has a solar charging control function, which intelligently manages energy, improves energy usage efficiency, and contributes to environmental protection and energy saving | ifi available for IOS and Android systems.Dual load outputs: Equipped with two load outputs, you can connect multiple electrical devices at the same time. |
Included
6200Watt hybrid inverter*1
| | |
| --- | --- |
| AC INPUT | 230V AC |
| Output frequency | 50Hz/60Hz(Auto detection) |
| Maximum efficiency | 98% |
| Transmission time | 10ms typical(UPS); 20ms typical(Devices) |
| DC INPUT | 24V DC/48V DC |
| Waveform | Pure sine wave |
| Rated output power | 3.2KVA/3000W, 6.2KVA/6200W |
| PV array MPPT voltage range | 90-500VDC |
| Max PV open circuit voltage | 500VDC |
| Maximum charging time(AC+Solar) | 120A |
| Max. PV system output | 6200W/6500W |
| Operating temperature range | -10°C to 50°C |
| Solar charging operation | MPPT |
| Economy mode power consumption(ECO) | <15W |
| Power consumption without load | <35W |
| Safety certification | CE |


Q1.How long can the hybrid inverter power a load?
A1.With an average load of 1000W and battery capacity of 100Ah, the inverter can provide power for about 10 hours. Please note that this is only a rough estimate and depends on various factors.
Q2. How many charging modes and output modes does the solar inverter have?
A2.The solar inverter has 4 charging modes and 3 output modes. You can set the inverter for battery charging, grid charging or solar charging depending on your needs. This allows for flexible use, even in poor lighting conditions.
Q3.Does the inverter automatically switch to battery charging or mains charging when the light is dim?
A3.Yes, the solar inverter automatically switches to battery charging or grid charging when the light is low. This allows for continuous power delivery to your load, even in low light conditions.
Q4.Does the inverter have an integrated protection circuit?
A4.Absolutely! The inverter is equipped with an integrated protection circuit. This ensures that the charging current is always sufficient and the batteries are not overcharged.
Q5.What is the peak power and conversion efficiency of the hybrid solar power inverter?
A5. The hybrid solar power inverter has a peak power of up to 6200W/6500W, the conversion efficiency of the hybrid solar power inverter can reach up to 98%.
Q6: Are there instructions in German?

A6.Yes, you can get the manual in German by clicking the download .
For further questions, you can contact us at service@songsolar.com .
Wichtige Produktinformationen
Dieses multifunktionale Wechselrichter-/Ladegerät kombiniert die Funktionen eines Wechselrichters, eines Solarladegeräts und eines Batterieladegeräts, um eine unterbrechungsfreie Stromversorgung in tragbarer Größe zu gewährleisten. Sein umfassendes LCD-Display bietet benutzerkonfigurierbare und leicht zugängliche Drucktastenfunktionen wie Batterieladestrom, Priorität des AC-/Solar-Ladegeräts und zulässige Eingangsspannungen für verschiedene Anwendungen.
• 1*Hybrid-Wechselrichter
• 1* Produkthandbuch
• 1* Externes WiFi
---
Planes, trains, trucks or boats. We deliver the products to your home quickly, safely and economically.
Most orders are delivered within 7-14 business days. Due to the nature of our products, we cannot guarantee delivery dates. If you have not received your product within 14 days, rest assured that we are still working to ship the item as quickly as possible.
We offer shipping and delivery services to European countries. (other locations require the additional fees).
Different shipping methods are required for different products
Solar panels require freight shipping. Select Freight Shipping Required for Solar Panels option at checkout. Due to their size, weight and handling requirements, most solar panels are packed on a pallet or skid and shipped via carrier.
Flat Rate Shipping: Many products, including most solar kits, have a flat shipping rate based on the weight of the package. This shipping fee applies to most European countries. Additional shipping costs may apply for other locations.
Variable Shipping: At checkout, our system calculates the estimated shipping cost for your zip code.
Free Shipping: on select items storewide. If the items in your order qualify for "free shipping", your order will be FREE!
Shipping Policy - Important Shipping Information
SongSolar, Inc. will arrange freight shipping with recognized freight and parcel service providers in European countries. Materials shipped will be packaged in accordance with published standards for freight shipping of products and related equipment. We will provide carrier tracking codes and contact information as they become available.
Customer agrees that SongSolar is NOT liable for product damage or replacement material costs of items damaged during freight transportation found at the time of delivery or thereafter.
In the event of damage, the customer undertakes to make claims for damages directly to the freight forwarder. SongSolar will endeavor to assist with all claims by providing the customer with original shipping information.
SongSolar will use its best efforts to make new orders available for the same or similar items to replace damaged items.
SongSolar offers Customer the following policies when accepting freight shipments.
Please inspect your order completely immediately upon receipt.
First, look for visible signs of rough handling, shredded boxes, or open packaging.
Write "DAMAGE" with your initials and note specific damage on the bill of lading or delivery note if you discover damaged items - large or small.
Notify the driver and take photos of any damage.
If you are unable to fully inspect the items at the time of delivery, write "Subject to Inspection" next to your signature.
Note that the # of the pallets, boxes or bundles match the bill of lading.

If an item is missing, notify the driver and note it on the paperwork before signing.

If the receipt is not properly recorded at the time of delivery, SongSolar will NOT be liable for any additional costs for replacement materials.

There is a limited opportunity to submit a refund claim to the carrier once the carrier has departed.

Once you have signed the delivery note, you accept responsibility for the items.

DO NOT sign the delivery note without noting any damage or "subject to inspection".

Take clear photos of the delivery note and damaged items.
Contact the carrier and SongSolar within 72 hours. Send description of damage, quantity, and photos to service@songsolar.com
Please include your order # in the email subject.
Still have questions? Please CONTACT US service@songsolar.com for a shipping quote
Ich habe es für meinen Vater gekauft, weil er sein neues Zuhause auf einem Schiffscontainer baut, Stromrechnungen sparen möchte und einige Solarpaneele installiert.
Lässt sich leicht installieren und hatte einen schönen Bausatz und eine Anleitung.
Ich habe diesen Wechselrichter gekauft, um ihn bei einem Stromausfall zu verwenden. Ich habe einen Gasgenerator, aber wenn der Strom ausfällt, passiert das normalerweise während eines Sturms. Also habe ich die Wattzahl addiert, die ich während des Stromausfalls benötigen werde.
Installiert wie angegeben. Funktioniert super
Funktioniert bisher super, ich werde in ein paar Jahren aktualisieren, wenn ich mich erinnere. Einfach zu installieren und zu bedienen, wenn Sie das Handbuch lesenEine Person fand dies hilfreich