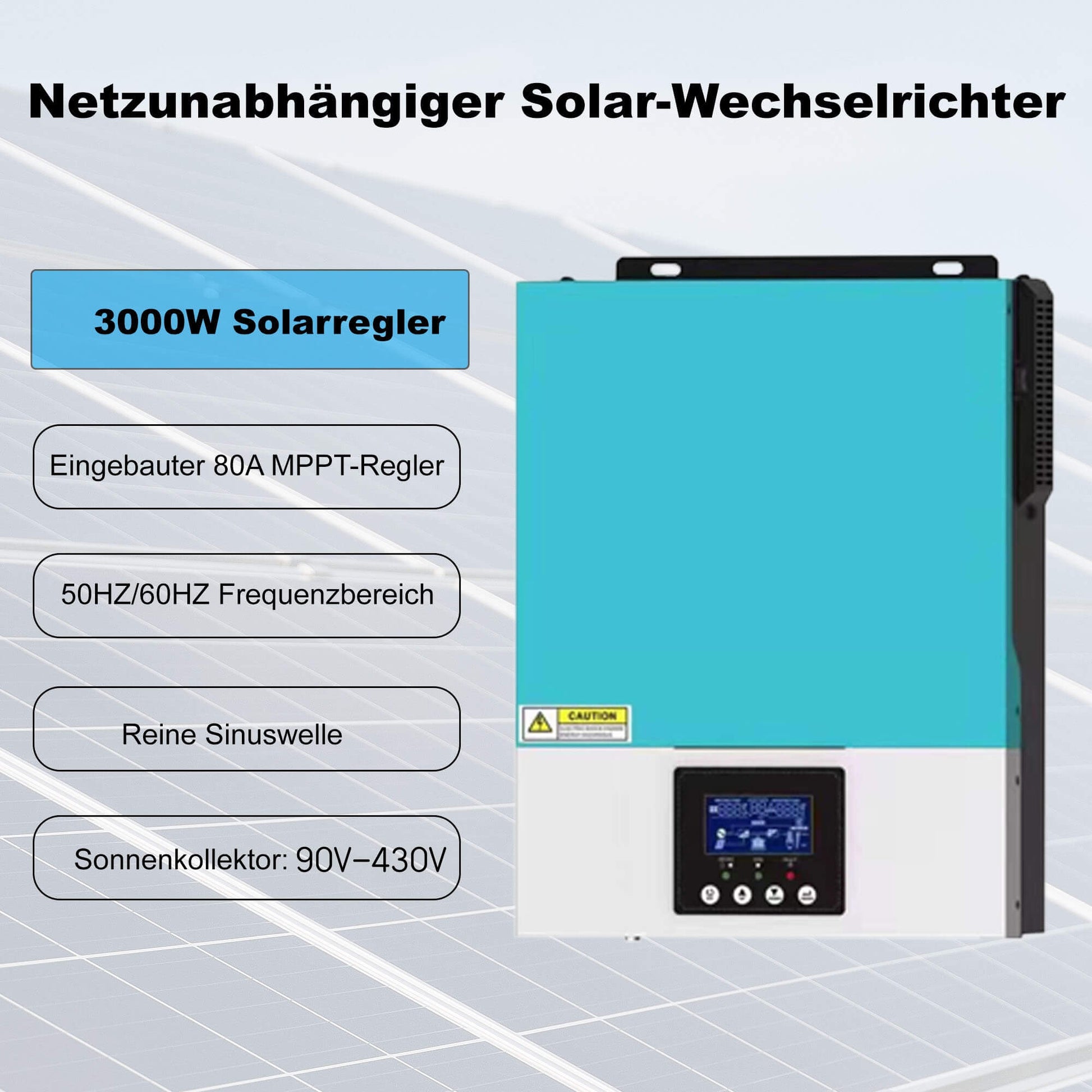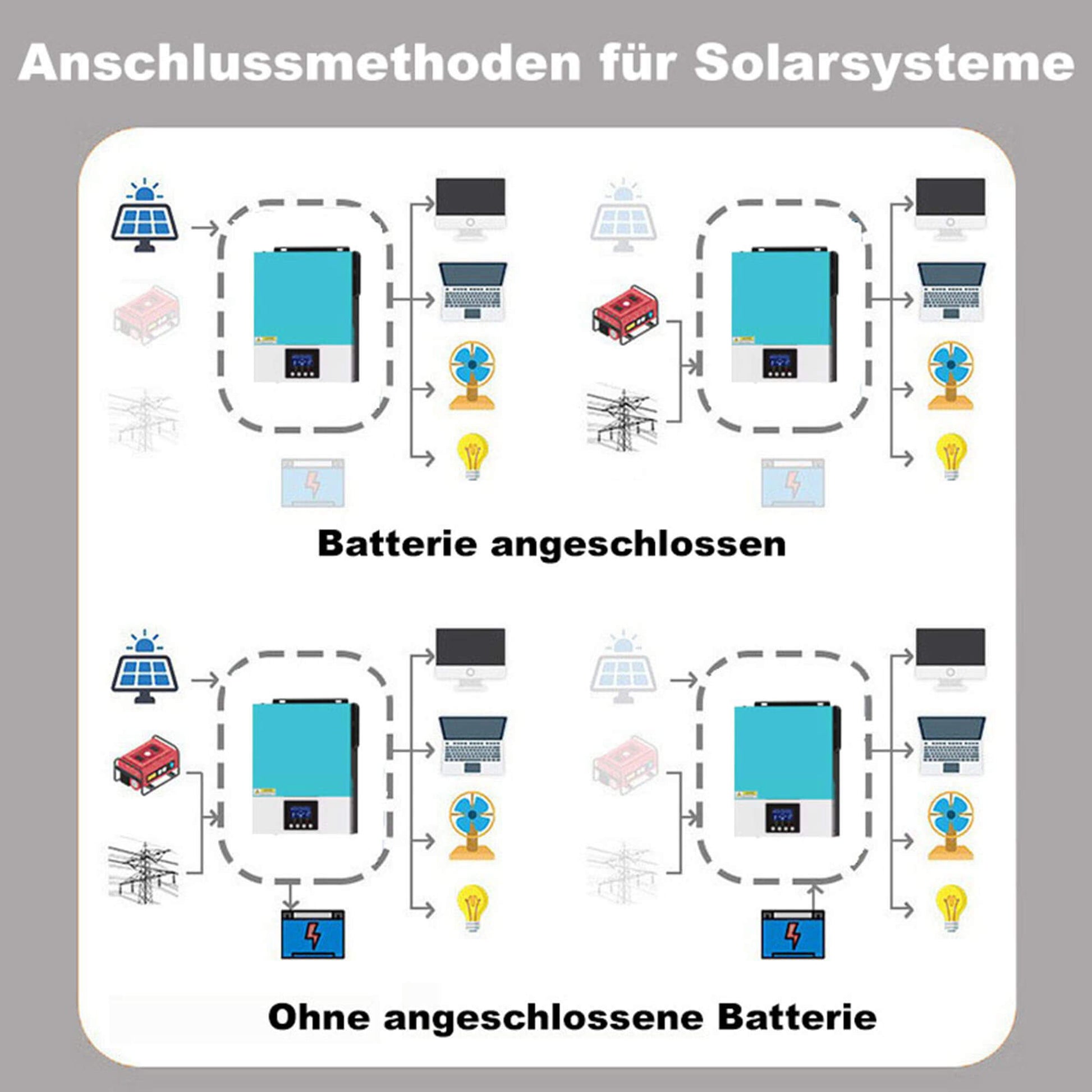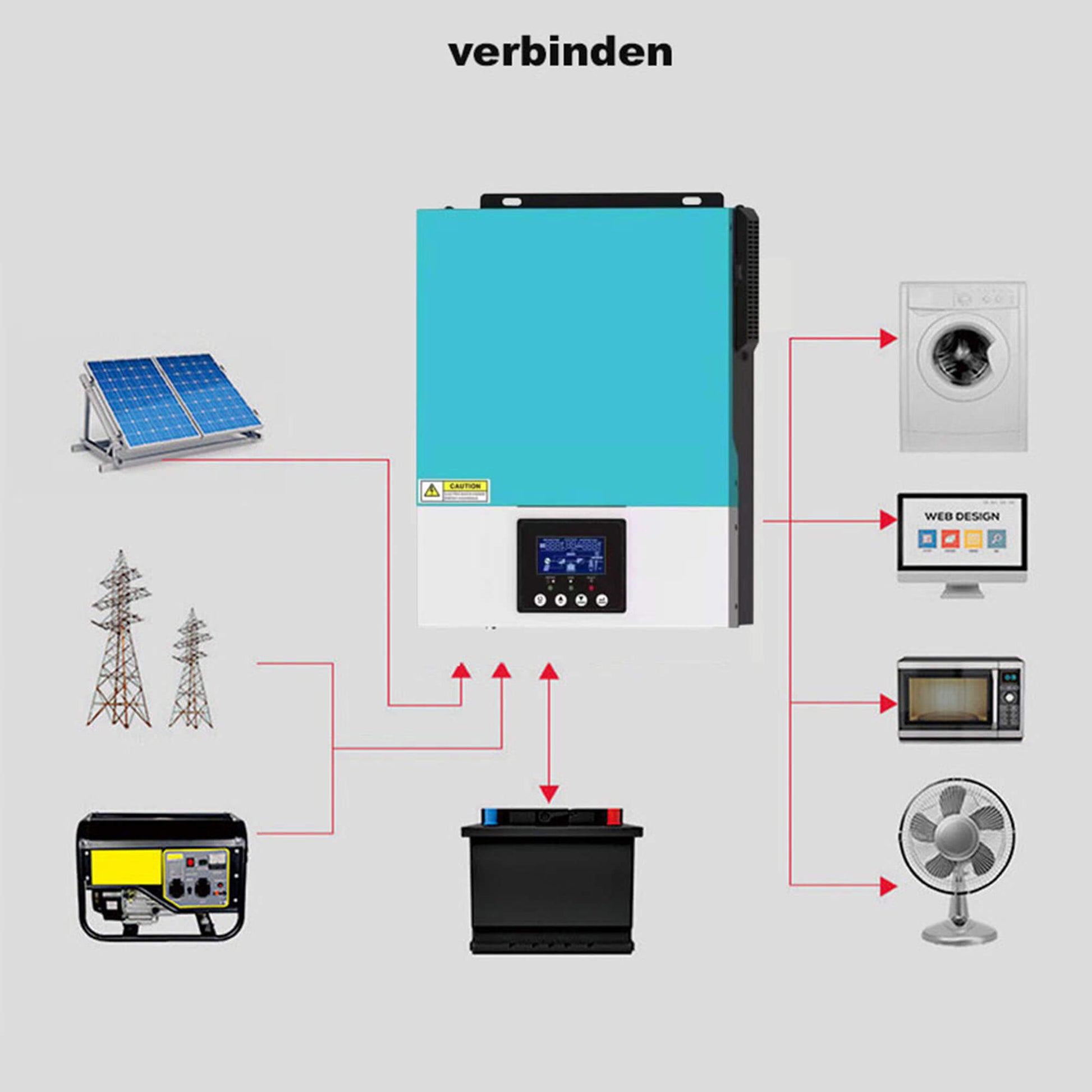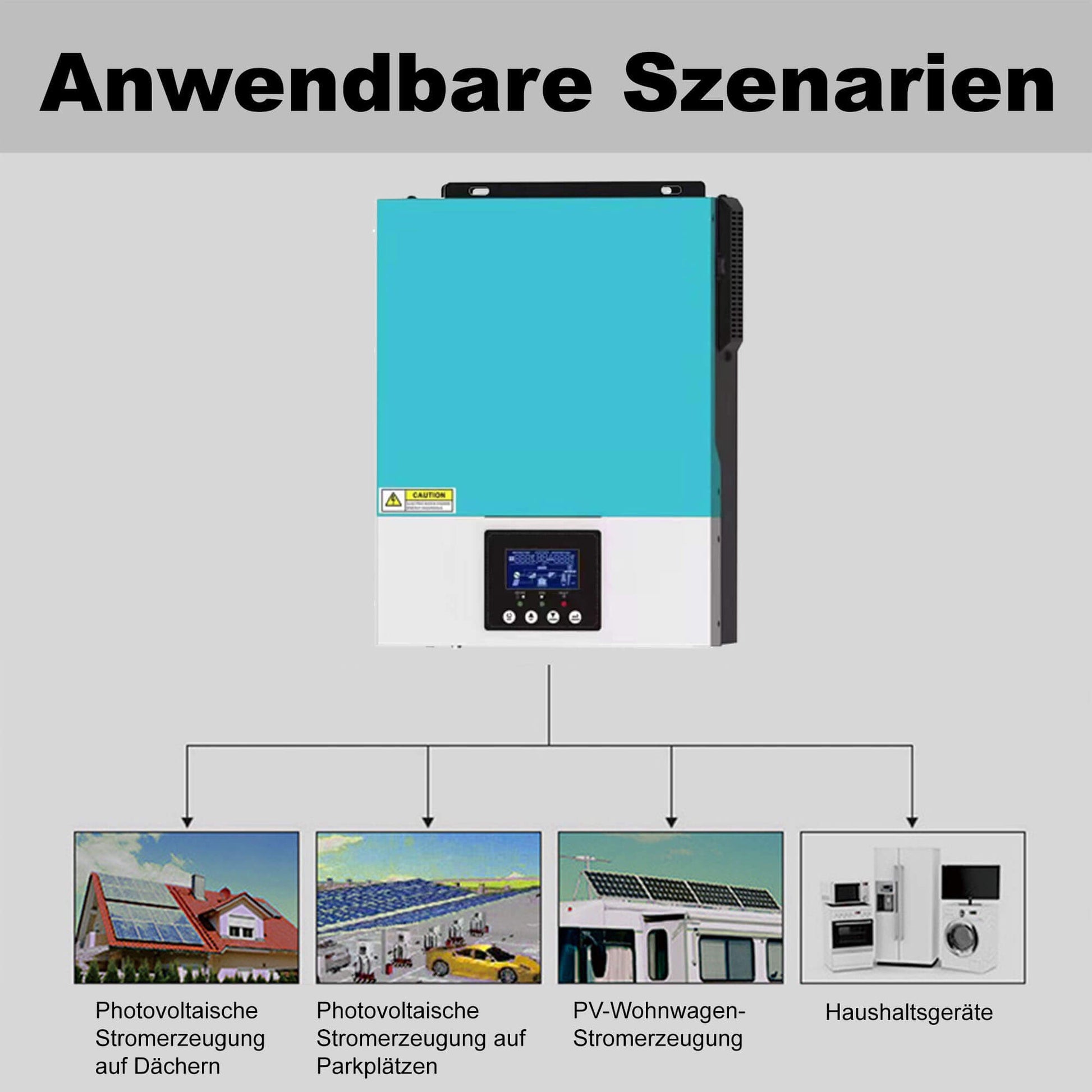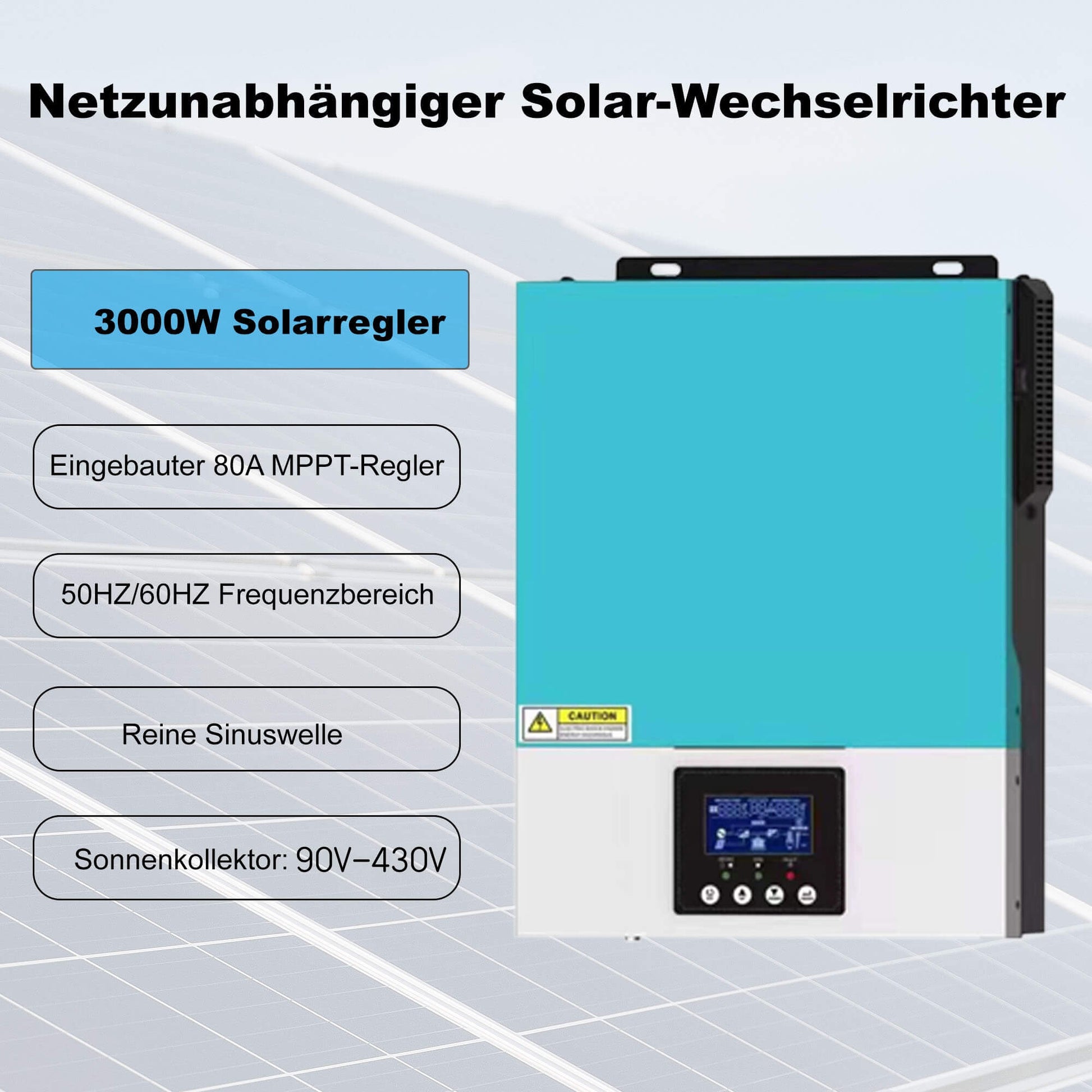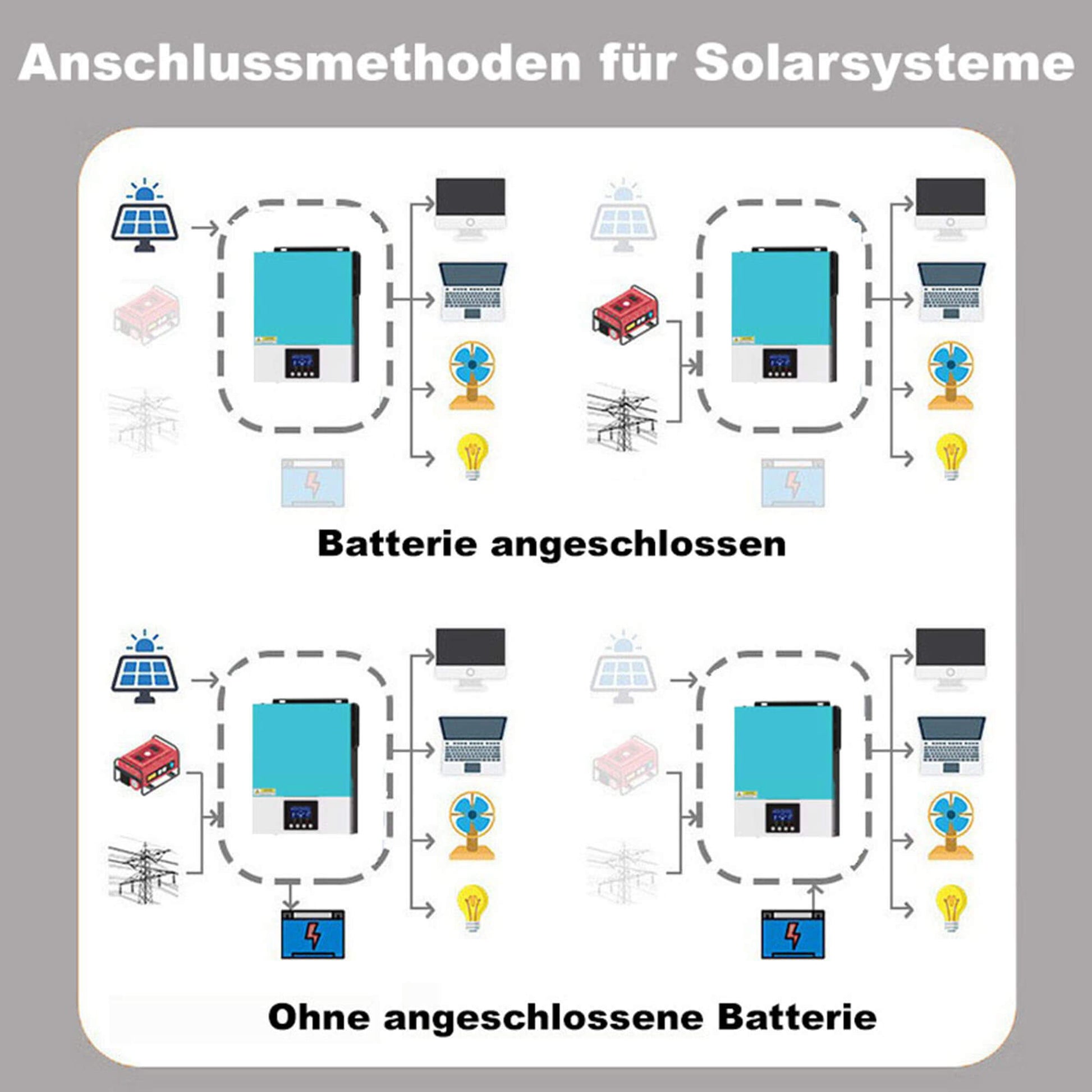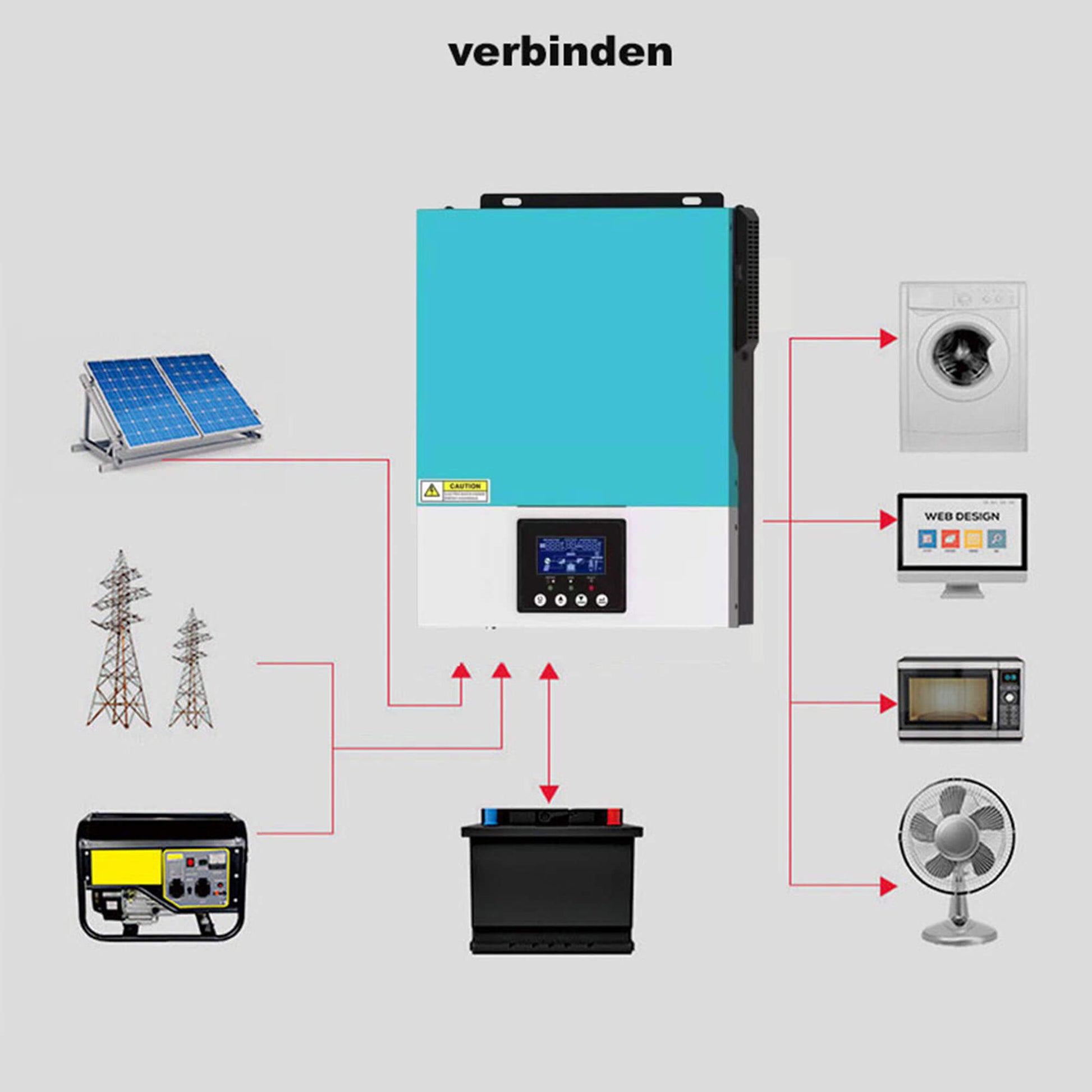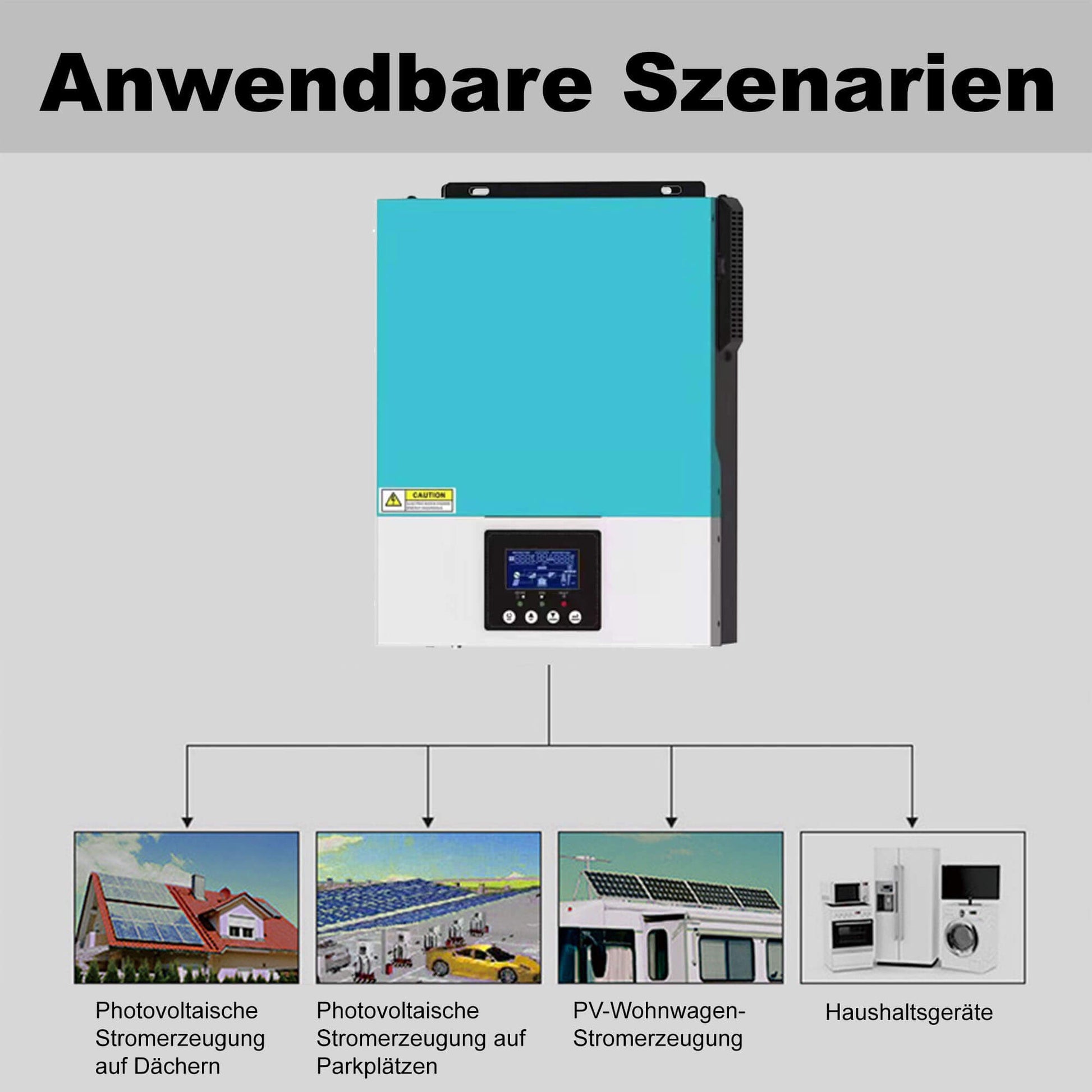 3KW high voltage pure sine wave solar inverter with 80A MPPT charge controller high voltage
Sale price
€299,00
Regular price
Tax included.
3KW high voltage pure sine wave solar inverter with 80A MPPT charge controller high voltage
Sale price
€299,00
Regular price
Description
Further information
Shipping & Returns
customer reviews
The solar inverter is the heart of small solar systems and is suitable for remote regions with and without power supply.
It delivers continuous 230V AC power with 3000W pure sine wave, ideal for lighting throughout the home.
The MPPT solar charge controller features maximum efficiency in solar energy production and conversion.
With WiFi functionality and a downloadable app, you can easily view energy consumption and other data on your smartphone.
The integrated MPPT 80A charge controller enables optimal energy management for your solar system.
Rated power

3000W

Battery Voltage

24VDC

Product Size(L*W*Hmm)

350x259x90

NW(Kg)

5

Solar

MPPT tracking voltage range

90V-430V

Max PV input voltage

450V

PV array maximum power

3000W

AC input

AC input voltage range

170VAC~280VAC(UPS mode)

AC input frequency range

50Hz/60Hz

output

Output efficiency(Battery/PV Mode)

94%(Peak value)

Output Voltage(Battery/PV Mode)

220VAC±2%/230VAC±2%/240VAC±2%

Output Frequency(Battery/PVMode)

50Hz or 60Hz

Output Wave(Battery/PV Mode)

Pure Sine Wave

Efficiency(AC Mode)

>99%

Battery

Battery



Type

VRLA Battery

Charge Voltage :13.8V; Float Voltage:13.7V(Single battery voltage)

Customize battery

Charging and discharging parameters of different types


batteries can be customized according to user requirements

Max AC charging current

60A

Max PV Charging Current

80A

Working fashion

Mains priority/Solar priority/Battery priority(Can be set)

Transfer time

≤4ms

display

LCD+LED

Communication(Optional)

RS485/APP(WIFI monitoring or GPRS monitoring)

Environmen

Operating temperature

0℃~55℃

Storage temperature

-15℃~60℃

Noise

≤55dB

elevation

2000m(More than derating)

Humidity

0%~95%(No condensation)
A single unit measures 350 * 259 * 90 mm and weighs 5 kg.
Wichtige Produktinformationen
Dieses multifunktionale Wechselrichter-/Ladegerät kombiniert die Funktionen eines Wechselrichters, eines Solarladegeräts und eines Batterieladegeräts, um eine unterbrechungsfreie Stromversorgung in tragbarer Größe zu gewährleisten. Sein umfassendes LCD-Display bietet benutzerkonfigurierbare und leicht zugängliche Drucktastenfunktionen wie Batterieladestrom, Priorität des AC-/Solar-Ladegeräts und zulässige Eingangsspannungen für verschiedene Anwendungen.
• 1*Hybrid-Wechselrichter
• 1* Produkthandbuch
• 1* Externes WiFi
---
Planes, trains, trucks or boats. We deliver the products to your home quickly, safely and economically.
Most orders are delivered within 7-14 business days. Due to the nature of our products, we cannot guarantee delivery dates. If you have not received your product within 14 days, rest assured that we are still working to ship the item as quickly as possible.
We offer shipping and delivery services to European countries. (other locations require the additional fees).
Different shipping methods are required for different products
Solar panels require freight shipping. Select Freight Shipping Required for Solar Panels option at checkout. Due to their size, weight and handling requirements, most solar panels are packed on a pallet or skid and shipped via carrier.
Flat Rate Shipping: Many products, including most solar kits, have a flat shipping rate based on the weight of the package. This shipping fee applies to most European countries. Additional shipping costs may apply for other locations.
Variable Shipping: At checkout, our system calculates the estimated shipping cost for your zip code.
Free Shipping: on select items storewide. If the items in your order qualify for "free shipping", your order will be FREE!
Shipping Policy - Important Shipping Information
SongSolar, Inc. will arrange freight shipping with recognized freight and parcel service providers in European countries. Materials shipped will be packaged in accordance with published standards for freight shipping of products and related equipment. We will provide carrier tracking codes and contact information as they become available.
Customer agrees that SongSolar is NOT liable for product damage or replacement material costs of items damaged during freight transportation found at the time of delivery or thereafter.
In the event of damage, the customer undertakes to make claims for damages directly to the freight forwarder. SongSolar will endeavor to assist with all claims by providing the customer with original shipping information.
SongSolar will use its best efforts to make new orders available for the same or similar items to replace damaged items.
SongSolar offers Customer the following policies when accepting freight shipments.
Please inspect your order completely immediately upon receipt.
First, look for visible signs of rough handling, shredded boxes, or open packaging.
Write "DAMAGE" with your initials and note specific damage on the bill of lading or delivery note if you discover damaged items - large or small.
Notify the driver and take photos of any damage.
If you are unable to fully inspect the items at the time of delivery, write "Subject to Inspection" next to your signature.
Note that the # of the pallets, boxes or bundles match the bill of lading.

If an item is missing, notify the driver and note it on the paperwork before signing.

If the receipt is not properly recorded at the time of delivery, SongSolar will NOT be liable for any additional costs for replacement materials.

There is a limited opportunity to submit a refund claim to the carrier once the carrier has departed.

Once you have signed the delivery note, you accept responsibility for the items.

DO NOT sign the delivery note without noting any damage or "subject to inspection".

Take clear photos of the delivery note and damaged items.
Contact the carrier and SongSolar within 72 hours. Send description of damage, quantity, and photos to service@songsolar.com
Please include your order # in the email subject.
Still have questions? Please CONTACT US service@songsolar.com for a shipping quote
Ich bin absolut zufrieden mit diesem Inverter. Er bietet eine herausragende Leistung und hat meinen Solarstrom auf das nächste Level gehoben. Eine kluge Entscheidung!
Obwohl ich den Solarwechselrichter noch nicht getestet habe, bin ich von der schnellen Lieferung und der sorgfältigen Verpackung beeindruckt. Dieser Verkäufer legt großen Wert auf Kundenzufriedenheit. Danke!