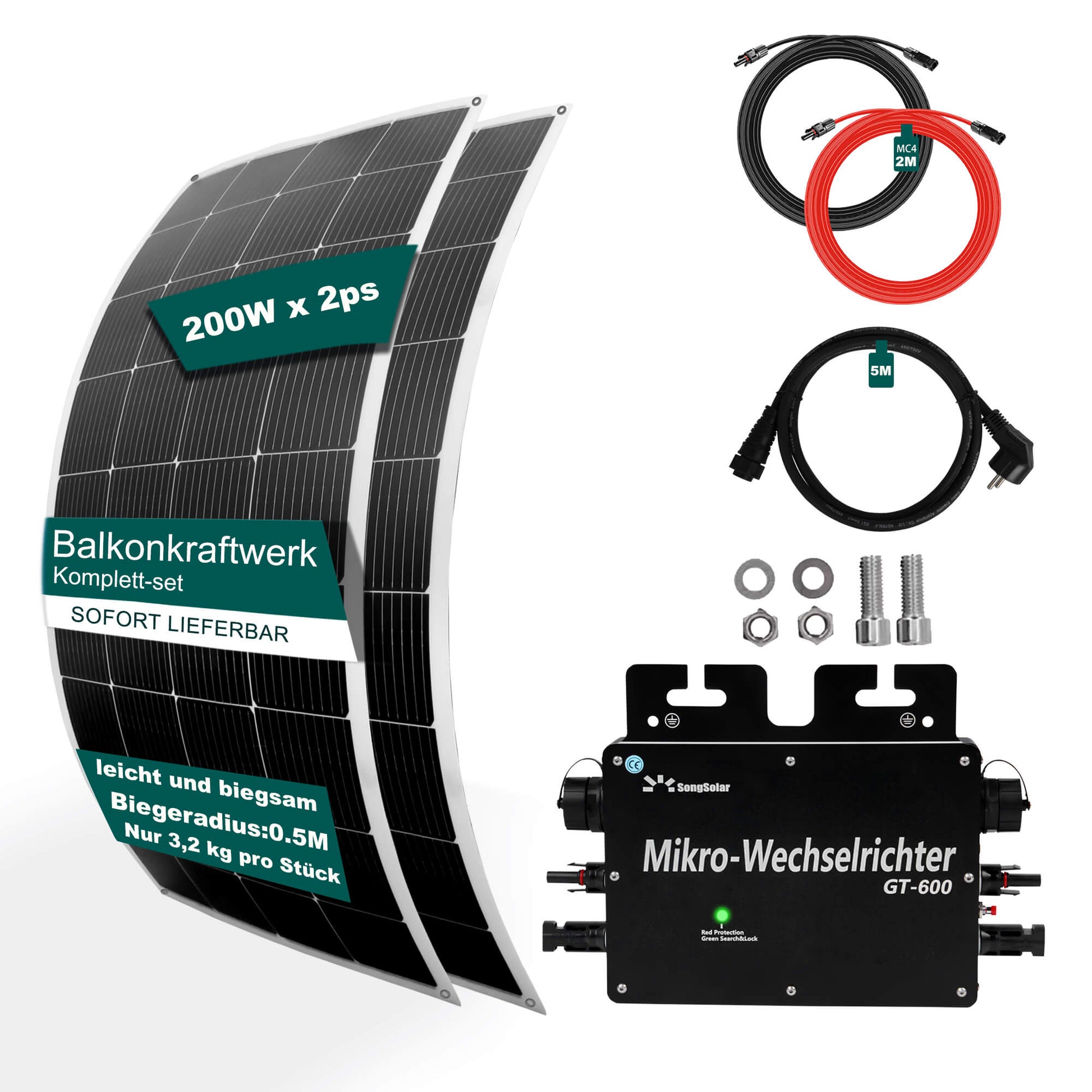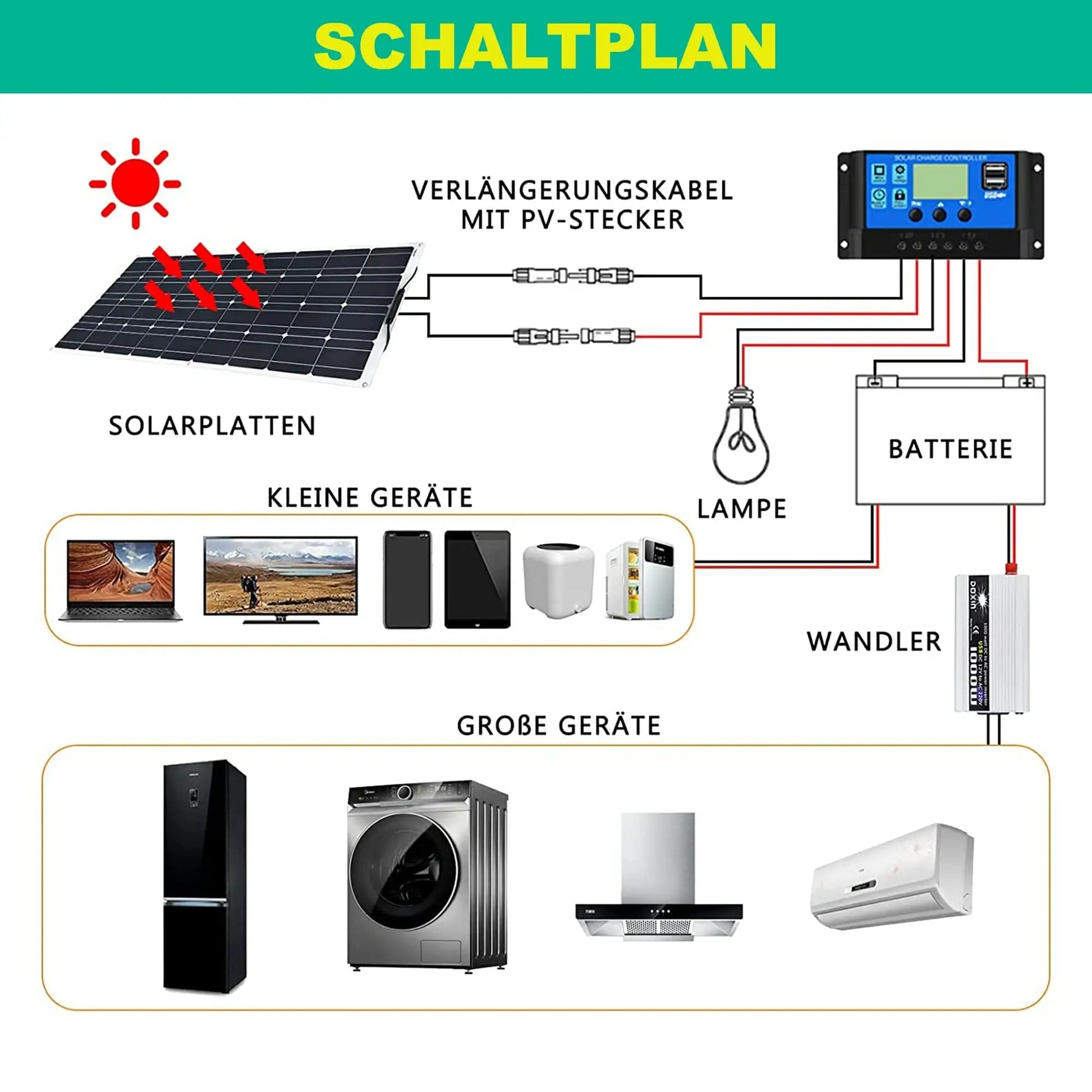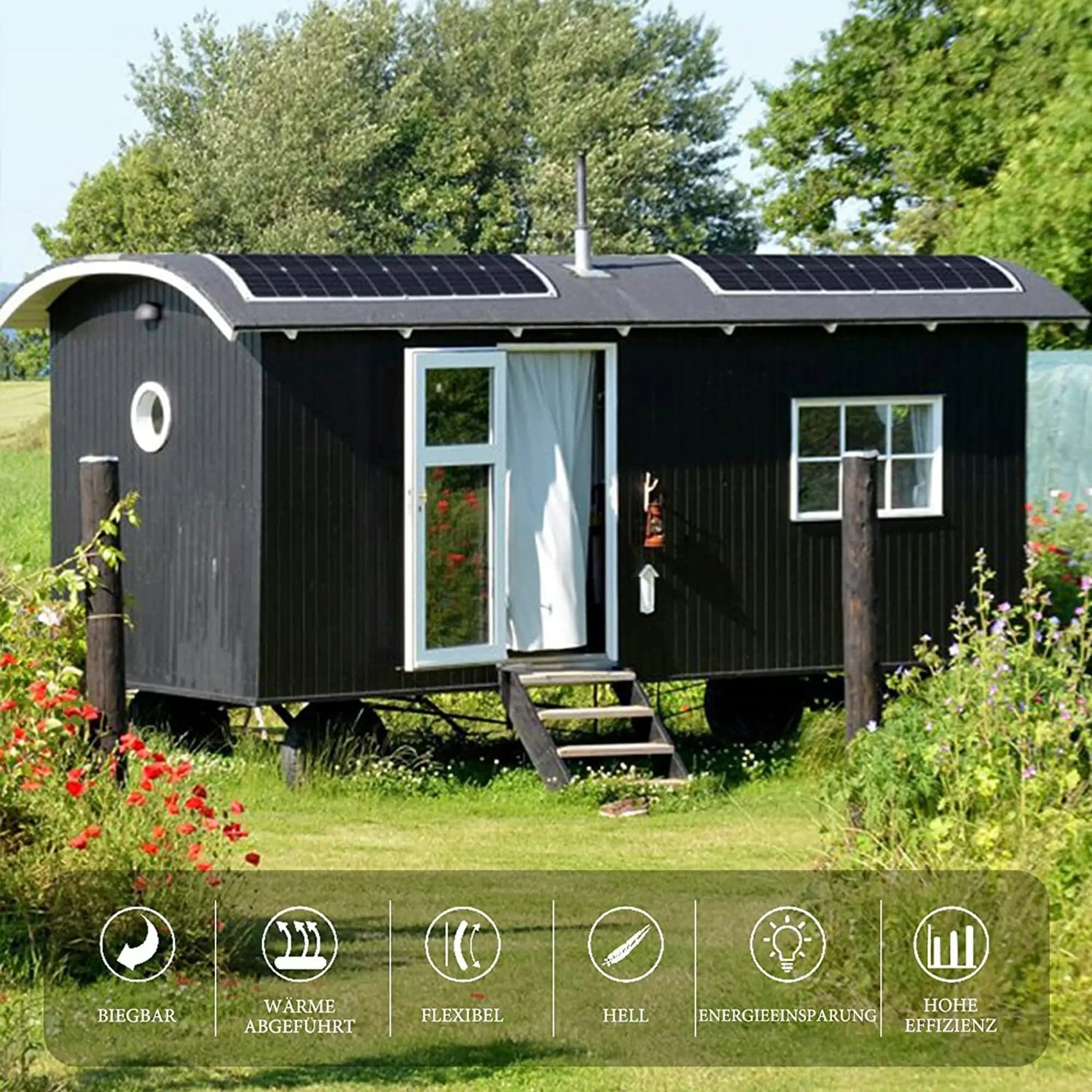 Flexible 600W solar panel set for outdoor and home use
Sale price
€669,00
Regular price
€699,00
Tax included.
Flexible 600W solar panel set for outdoor and home use
Sale price
€669,00
Regular price
€699,00
Professioneller Kundenservice, top Beratung.
Description
Shipping & Returns
customer reviews
Balcony power plant 600 watts
It is an efficient and reliable solar power solution that provides clean energy for your home or workplace, reducing dependence on the traditional power grid while contributing to environmental protection.
Product features
With the SongSolar 600 Watt Balcony Solar Power Station you can immediately generate your own electricity. Depending on the location and orientation, the balcony power plant generates approx. 530-680 kWh per year. Place it in an unobstructed, sunny location and save up to 279.9 euros per year on your electricity bill. Protect the environment and save money.

High performance:SongSolar solar power generation system uses advanced solar technology to ensure that sunlight can be efficiently captured and converted into electricity in all weather conditions. Its high conversion efficiency maximizes the power you need and saves energy.



Safe and Reliable:Our solar systems undergo rigorous testing and quality control to ensure outstanding safety and reliability. Their stable performance ensures long-term operation and reduces maintenance costs, allowing you to generate power for a long time.
Flexible Installation:The SongSoalr solar power generation system has a simple design that makes it easy to install and use. You can easily install it on your balcony, roof or other area with a lot of light to make the most of the available space and capture more solar energy.
Intelligent monitoring: The system is equipped with advanced monitoring technology, which allows you to monitor power generation and energy usage in real time. Via mobile apps or online platforms, you can keep an eye on your energy production for intelligent management and optimization anytime, anywhere.
Environmentally friendly and energy-saving: When you choose a solar energy system from SongSolar, you are making an active contribution to environmental protection. Solar energy is a clean, environmentally friendly energy source whose use reduces carbon emissions, reduces demand for fossil fuels and contributes to a sustainable planet.
scope of delivery
2 x Song Solar 200 WP /Half Cut /Black Frame




1 x Song Solar 600W micro inverter



1 x Betteri to Schuko/socket cable 5m

2 x set of extension cables Xenes 2m (a total of 2 cables_ 1x red and 1x black)
The size of the solar panel is: 1563*730*3.5mm
The size of the 600W inverter is: 200mm x 230mm x 40mm
Certificates
VDE-AR-N 4105 form, useful for CE and VDE product certificates
Shipping and invoice from Germany - Shipping from Germany by shipping company. You will receive the invoice automatically after shipping confirmation.
Whether you are looking for green power for your home or energy savings for your workplace, SongSolar solar power systems are ideal for you. Click the link to buy now and embrace clean energy for a better future!
Professioneller Kundenservice, top Beratung.